When you are part of the USA military forces around the world, you are subject to moving orders anytime.
When you move, TRICARE moves with you. No matter where you are stationed, TRICARE will be there for you before, during and when you arrive at your next duty station.
WHAT IS TRICARE?
TRICARE is the health care program for all uniformed service members, retirees, and their families around the world. It provides extensive coverage to all the qualified beneficiaries, including medical, dental, and psychiatric help. Most of its health plans meet the guidelines for minimum essential coverage under the Affordable Care Act.
TRICARE is under the management of the Defense Health Agency which is under the umbrella of the Assistant Secretary of Defense for Health Affairs.
The mission of TRICARE is to enhance the Department of Defense and the nation's security by providing health support for the full range of military operations and sustaining the health of those entrusted into TRICARE's care.
The vision of TRICARE is to be a world class health care system that supports the military mission by fostering, protecting, sustaining and restoring health.
GET TO KNOW YOUR OFF-POST TRICARE MENTAL HEALTH COUNSELOR NEAR CAMP HUMPHREYS
If you will be stationed in Camp Humphreys, Korea, you are in safe hands! We at Seoul Counseling Center are authorized to be your certified TRICARE off-post mental health provider, located near Camp Humphreys, with US licensed Psychologists, Professional Counselors, and Social Workers. We are contracted with TRICARE to provide you and your family the best psychological counseling care while you and your family are stationed in Korea.
TRICARE covers medically and psychologically necessary mental health and substance use disorder care. This covers both inpatient and outpatient care. The services include prescription medication, psychiatric help, and mental health counseling. At the Seoul Counseling Center, we can take care of your mental health counseling needs for individuals, couples, and families and can help link you to psychiatric medication support, as needed. 
ONLINE COUNSELING NOW APPROVED FOR TRICARE MEMBERS IN KOREA
The Seoul Counseling Center is now authorized to provide online counseling to TRICARE members in need of mental health support online, such as due to concerns related to COVID-19 or difficulty traveling to our center for in-person care. You can now access our mental health counseling services online from anywhere in Korea!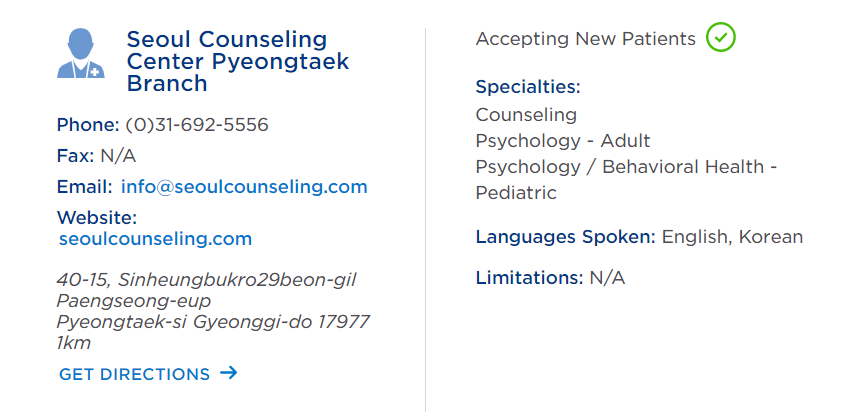 We know this is a very valuable service for eligible TRICARE members who don't want to be seen physically visiting the onsite therapist's clinics on the bases. We value your privacy and confidentiality, and it is to your discretion to be treated with counseling onsite or through the comfortable atmosphere of online sessions which we provide.
Access to psychological counseling has been designed to support active duty personnel and their dependents by letting them obtain care easily and conveniently. This makes it possible to active duty enlisted personnel to perform their military functions without worrying about the health care of their dependents. The priority of care is based on the following hierarchy:
Priority 1 – Active duty service members
Priority 2 – Active duty family members enrolled in TRICARE
Priority 3 – Retirees, their family members and survivors who are enrolled
Priority 4 – Active duty family members who are not enrolled
Priority 5 – All other eligible persons.
Online counseling sessions are always confidential and only you and your therapist are privy to the details of your sessions. You and your family members need not visit an in-person counseling clinic to undergo high-quality counseling services, but rather enjoy this TRICARE privilege with our skilled online mental health care providers.
Make us your TRICARE online counseling provider today!