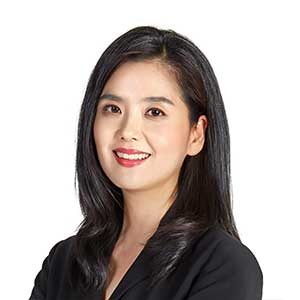 U.S. Licensed Marriage and Family Therapist & U.S. Registered Play Therapist
Children, Adolescents, Adults
English, Korean, Bilingual
Sun Bo Shim, M.S., is a U.S. Licensed Marriage and Family Therapist, a U.S. Registered Play Therapist, and a Korea Licensed Developmental Psychologist. She was born and raised in Seoul, South Korea and lived in Pasadena, California since she moved to the States to study at Fuller Theological Seminary in 2007. She also lived in San Francisco, California and spent time in Boston, Massachusetts.
Biography
Sun Bo graduated from Catholic University of Korea with a Bachelor of Arts in Psychology and earned her Master's degrees in Development Psychology from Catholic University of Korea and Marital and Family Therapy from Fuller Graduate School of Psychology. 
She accumulated extensive clinical experience in a variety of settings, including:
The MindCare Institute of Korea (Seoul, Korea)

Harvard Counseling Center (Los Angeles, California)
Alafia Mental Health Institute (Lancaster, California)
Fuller Psychological & Family Services (Pasadena, California)
Korean Research Center of Wechsler Intelligence Scale for Children in Developmental Psychology Lab of Seoul National University (Seoul, Korea)
Student Counseling Center and Child Developmental Counseling Center of Osan University (Osan, Korea)
She has been providing psychotherapy for children, adolescents, adults, couples, and families with diverse ethnic backgrounds since she moved back to Seoul, Korea from Pasadena, California in 2016.
Therapy Approach
Psychotherapy's ultimate goal is to help clients help themselves grow in a secure, safe, and confidential environment. I therefore provide a supportive and caring environment in order for my clients to be understood. My therapy style is open yet engaging, to make each session as meaningful as possible.
I approach therapy as a collaborative process between the client and the therapist, and that a positive therapeutic relationship is a core aspect of successful psychotherapy. My approach to therapy is customized to each client, utilizing interventions that are known to be effective in order to not only appropriately intervene but to also deeply understand the client. My approach is thus integrative in nature, shaped by my education, training, clinical experience, and personal insights achieved over the past several decades of my life.
Cognitive Behavioral Therapy is my primary theoretical orientation for adults, which is a structured approach to help individuals decrease or eliminate their symptoms related to depression or anxiety. I help clients recognize the relationships between their thoughts, feelings, and behaviors and understand how thought distortions and beliefs play a role in creating emotional and behavioral disturbance. Clients thus learn to identify and challenge their thinking patterns to change their experiences.
Child-Centered Play Therapy is my primary theoretical orientation for children. I am trained in Play Therapy and I believe in the therapeutic power of play to effectively help children prevent and resolve their psychological issues and achieve their optimal growth and development.
Emotionally-Focused Therapy is an approach I use with couples to help them explore how their individual backgrounds, beliefs, thoughts, and behaviors may be impacting their relationship in both positive and negative ways. I help partners look within at how they construct their emotional experiences of relatedness and at how they engage each other to help them reprocess emotional responses, create new interactions, and foster secure bonding between them.
Family therapy is based on Family Systems Theory, in which the family is viewed as a living organism rather than just the sum of its individual members. I help family members improve communication, solve family problems, understand and handle special family situations, and create a better functioning home environment.
In addition to those above, I also apply other therapeutic approaches into my practice, including:  
Emotionally-Focused Individual Therapy

Person-Centered Therapy

Psychodynamic Therapy
Acceptance and Commitment Therapy
Dialectical Behavior Therapy
Mindfulness
Mindsight
The Gottman Method for Couples Therapy
Education
MS: Fuller Theological Seminary, Graduate School of Psychology (Marital and Family Therapy)
MA: Catholic University of Korea (Developmental Psychology)
BS: Catholic University of Korea (Psychology)
Certifications
U.S. Licensed Marriage and Family Therapist (California, USA)
U.S. Registered Play Therapist (Association for Play Therapy, USA)
Licensed Developmental Psychologist (The Korean Society for Developmental Psychology, Korea)