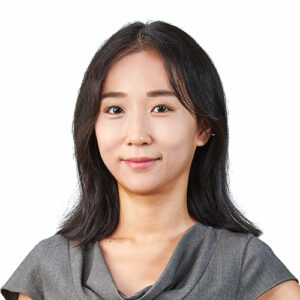 Children, Adolescents, Adults
English, Korean, Bilingual
Heewon Roh, M.A., is a therapist who has been supporting individuals and groups through assessment and therapy for the past 4 years.
Biography
She was born and raised in Seoul, Korea. She moved to America when she was 16 years old and studied for 12 years in different parts of America, including Pennsylvania and New York City.
Therapy Approach
My primary approach to therapy is based in integrative counseling, a combined approach which incorporates different therapeutic elements and tools to fit the specific set of needs different client populations have.
In this approach, I often apply evidence-based therapy interventions including Cognitive Behavioral Therapy (CBT) and Acceptance and Commitment Therapy (ACT). By using the ABC framework of CBT and exercises, I try to empower individuals to identify and evaluate their beliefs or convictions that trigger unhealthy emotions in them. My clients can thus understand how their psychological pain gets to manifest on the behavioral level and how the whole process becomes their patterns, as well as developing alternative patterns that are healthier and more realistic.
I also incorporate ACT into my practice, aiming to encourage my clients to embrace what they are experiencing internally. When paired with mindfulness-based therapy, ACT will equip my clients with tools and skills that enhance mindfulness and self-acceptance.
Education
MA: New York University (2017, Counseling for Mental Health and Wellness)
BA: SUNY at Binghamton (2013, Psychology)
Clinical Training
You&Me Psychological and Consultation Services (Seoul, Korea)
The Realization Center (New York, New York)

Counseling, therapy, and psychological assessment in English and Korean from high-quality, US licensed therapists, counselors, and psychologists.
100% Confidential, Supportive, Non-judgmental, & Effective Therapy in our Seoul and Pyeongtaek Offices.
Seoul Office
Monday – Friday: 10am – 9pm
Saturday: 9am – 7pm
Sunday: 10am – 7pm
Pyeongtaek Office
Tuesday - Friday: 10am – 8pm
Saturday: 10am – 6pm